Information about Pigments
Digital Himalaya: Kailash - a journal of Himalayan studies
Volume 4, 1976, Number 3 - A survey of Tibetan Pigments
As students of Tibetan art we had great difficulty finding information in the West on the techniques and materials used by Tibetan painters. Some work had been done on the iconography and stylistic developement of Tibetan painting but there was a general lack of information on how paintings were made. This prest survey of Tibetan painting materials is a compilation of data gathered though interviews with Tibetan painters knowlegable in the preparation of pigments and still using the tradional methods. Through patient kindness and generosity they opened their doors to us and we were able to get a glimpse of their art and their world ...
Download: A survey of Tibetan Pigments, 1,05 MB
In addition to "A survey of Tibetan Pigments" we collected together the associated Kremer Products.
http://www.wisotop.de/wellenlaengen-des-lichts-farben.shtml
Die Wellenlängen der Farben:
Finden Sie informatives Hintergrundwissen zu den Wellenlängen der einzelnen Farben auf der Homepage von Ulrike Häßler.
Art Is Creation – The Art of David Myers, with blog and big PIGMENT DATABASE
By artist Bruce MacEvoy – a beautiful website, about color vision, watercolors and much more …

www.baurat.de
Baurat Historische Baustoffe online, Altbausanierung, Altbauforum
www.swisseduc.ch
SwissEduc – Chemie und Kunst, Informationen zu Pigmenten
www.rubioviolins.com
David Rubio since the mid-1960s the name David Rubio has been famous in the musical world as a maker of stringed instruments, research on old violins, RUBIO-VARNISH

www.Seilnacht.tuttlingen.com
Thomas Seilnacht Lexikon der Farbstoffe und Pigmente, Info zu Farbe, Chemie, Labor
www.gutenberg-bibliothek.de
Gutenberg-Bibliothek Mainz Fachbibliothek für Druck-, Buch- und Schriftgeschichte, große online-Datebanken

www.artist-info.com
ARTIST-INFO Contemporary art database
Kunsthandwerkerportal: Kunsthandwerker-, Händler- und Bücherverzeichnis
Wolfgang Autenrieths – Links zu Museen, Kunst, Kunstpädagogik und künstlerischen Techniken
Romoe ist das verbandunabhängige Restauratoren Portal mit Sachtexten und Informationen zu den Themen:
Restaurierung, Kunst und Denkmalpflege
Passepartout Werkstatt – Schrägschnitt Passepartouts im Versand sind unser Betriebsschwerpunkt.
Rahmen für Fotos & Grafik ergänzen unser Angebot
Kuenstlernetz.de – ein internationales Künstlernetz in Deutschland
Gestalt Archiv Hans Hermann e.V. – Bildungszentrum für Kunstpädagogik
Verlag Müller + Schindler – Faksimiles, Geschichte der Buchmalerei, frühe Drucke
www.lenntech.com/deutsch/PSE.htm
Lenntech – Periodensystem der Elemente nach Mendeljef, Meyer und Werner
Association d'or et de pigments
Europäische Bildungsstätte für Lehmbau
Mitglied im Dachverband Lehm e.V., anerkannter Bildungsträger des Landes Mecklenburg-Vorpommern
Atelier für textile Gestaltung mit Pflanzenfarben
Ellen Weeder: Seiden – Energietücher, diese pflanzengefärbten Schals aus reiner Seide erfreuen und stärken Körper, Seele und Geist.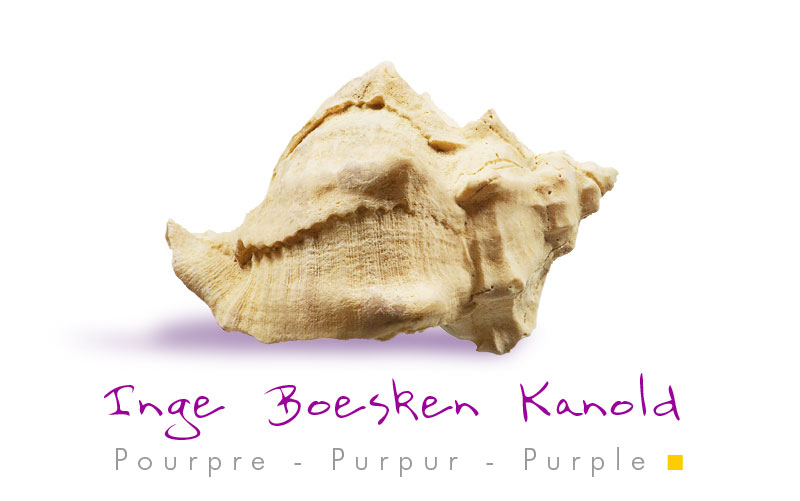 Inge Boesken Kanold: PURPUR - Eine Farbe aus dem Meer / PURPLE - The Colour from the Sea