Media anglais
Demo on painting a portrait with Kremer Watercolor Set Incarnate
Kremer Watercolor Set Incarnate - Small (#881036)
Dr. Georg Kremer's portrait painted by Winnie Sidharta-Ambron using our Incarnate Watercolor Set. Film edit & music by Michael Ambron.
YouTube Video: https://www.youtube.com/watch?v=gVsurhdA1rU&feature=youtu.be
5 Companies that sell Quality Art Supply
From beginners and hobbyists to professionals, all artists need supplies in order to create. If you're looking for the right paint, pigment, or paper for your next project, you've come to the right place. Whether your passion is landscape painting, bookmaking, or interior design, check out the five companies listed here.
This video was made with Ezvid Wikimaker.
A Brief History of Georg Kremer's Quiet Revolution in Color
By Rebecca Bengal,
Article in Ursula: Issue 5, 27.11.2019.
Especially in his later years, Whitten experimented assiduously with pigments he bought from a man named Georg Kremer, whose small storefront has been supplying painters with raw materials for almost 30 years, coming to function as a secret shaper of the ethos of significant swaths of New York painting during that time.
Read the Article: HAUSER & WIRTH
Creative Impulse Award 2019
The Kremer Pigmente Recipe Book has been awarded the 1st place of the "Creative Impulse Award 2019"."
And the winner is ...", so it was said Saturday, January 26, at the award ceremony of the "Oscars" of the hobby, creative and art supplies industry at Creativeworld, the leading international fair for the creative market. With 46 submissions, numerous companies from Germany and abroad have again applied for the coveted Innovation Prize. For the 14th time, Messe Frankfurt awarded this renowned prize in cooperation with the trade magazine HobbyArt.
Kremer Pigmente is pleased to announce the first prize in the category "Creative Book of the Year" with the submission of the "Kremer Pigmente Recipe Book".
The whole world is color!
Christine Schulz-Reiss,
Article in The Atlantic Times, 14.11.2014.
A cottage industry in the Swabian Alb region is the first port of call for conservators and artists searching for rare pigments.
Read the Article: The Whole World is Color
Roger Carmona in the KXLU Radio Show
Roger Carmona is an artist currently investigating the relationship of color to poverties. He is the Instructor and General Manager at Kremer Pigments NYC where he has spent the past eight years teaching raw materials and techniques to painters, sculptors, interior designers, architects, violin makers, conservators and anyone else interested in experimenting with paint.
Christine Palma is Public Affairs Director forKXLU Los Angeles, 88.9 FM, and she produces "Echo in the Sense", a weekly hour-long radio show featuring long form interview, lectures, and magazine-like feature pieces.
The program has been on-air since 1994.
Go to Interview: Roger Carmona and Christine Palma in the KXLU Radio Show, Mar 23, 2014.


Kremer Pigments Inc at http://sideways.nyc/2013/08/kremer-pigmente/, August, 2013.
When Dr. Georg Kremer was a student in Germany studying chemistry, a painter friend of his could not find a particular historical pigment and approached Kremer about it. Digging through archives, Kremer found the recipe to make it (this was well before the advent of the internet), and brought this extinct pigment back to life. Realizing a void in the art world, Dr. Kremer began to recreate other old pigments. ...
Niche Market | Historic Paint Pigments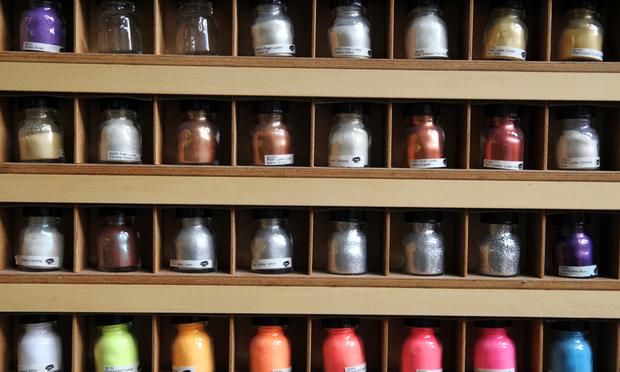 When an art conservator needs to touch up a 17th century Italian Madonna's cloak, they don't just pick up a tube of generic blue paint at the local art store. For those seeking to recreate an Old Master's palette, there's a treasure trove of color on the west side of Manhattan.
Download audio file: Niche Market | Historic Paint Pigments

To read more about: Historic Paint Pigments, by Sarah Kate Kramer, March 2012
A tour of Kremer Pigments - a source for historical paint supplies
Kremer Pigments Inc
247 West 29th Street New York, NY 10001
Produced by www.boonedogvideo.com, 2012



In African Cave, Signs of an Ancient Paint Factory
By JOHN NOBLE WILFORD

Published: October 13, 2011, in The New York Times
Digging deeper in a South African cave that had already yielded surprises from the Middle Stone Age, archaeologists have uncovered a 100,000-year-old workshop holding the tools and ingredients with which early modern humans apparently mixed some of the first known paint.
Deposits of 100,000-year-old ocher were found in a shell alongside tools for pounding and grinding paint materials.
Read Article in The New York Times
Coveted Color: Kremer Historical Pigments
The Statement – by Wilsonart – The e-zine for professional designers – has a new article about Kremer Pigments:
Coveted Color: Kremer Historical Pigments
Posted on September 14, 2010 – Extracts:
"What paint would you use if you were to restore the Sistine Chapel? This is a trick question. You can't simply buy paint from the store. You have to make your own. And you will probably make it with pigments from Kremer."
"Imagine the color Sepia. Do you know what the original Sepia looked like? Few of us do. But you can find genuine Sepia, the very same as was used by Leonardo DaVinci, at Kremer."


"Mother Nature's Most Beautiful Daughters"
Heidelberg Druck Nr. 258 / 2006

Photos: Sabine Kress
"…Only smalt, an ancient pigment which was discovered in 2000 B.C. and whose main component, cobalt, was formerly mined in Saxony, is capable of producing this heavenly blue luminosity. A truly special day – and not only for the regional capital of Germany's Free State of Saxony. This moment also struck a chord with chemist Dr. Georg Kremer. As the world's only manufacturer of smalt pigment, he alone is responsible for the brilliant blue of the cross…"
Mother Nature's Most Beatiful Daughters
In the land of forgotten colors
On the trail of Cranach, Dürer and Stradivari: chemist Georg Kremer studies and reproduces the paints used by the old masters.
Published in the Heidelberg magazine, print process 22/03
Text: Helge Bendl, Photos: Kurt Henseler
In the land of forgotten colors, 22/03